Roofing Services
Shingle roofing for residential homes is our specialty and our roofers are attentive to detail and provide picture-perfect shingling that will make your roof stand out in the neighbourhood. We treat every roof as if it is our own and promise the TLC it deserves.

During our repairs, we colour-match shingles to keep your roof looking brand new and replace rotting wood if we come across any.

During our re-roofing and roof replacements, we provide quality shingles, tons of colour and type options available and expert installation that will have your roof glowing.

Products We Use
All brands are avaialble.
Shingle Differences

3-tab Shingles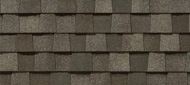 Laminate Shingles